It's promising to be a hot Valentine's Day this year in more ways than one.
Average highs for the romantic holiday normally stick around 72 degrees. But this year, 10Weather WTSP meteorologist Grant Gilmore forecasts Wednesday's high will reach 81. Just one more degree and it will be the hottest and sappiest holiday since 1997.
The normal high temperature for Valentine's Day in Tampa is 72°. I'm forecasting a high of 81° tomorrow which would make it the warmest Valentine's Day in Tampa since 2001. If we hit 82° it will be the warmest since 1997. #TampaBay #flwx #ValentinesDay #ValentinesDay2018 pic.twitter.com/59Ca98Fo0h

— Grant Gilmore (@grant_gilmore) February 13, 2018
It has been in the 80s since last Tuesday, which is the warmest start on record for February in Tampa, Gilmore said. That trend is expected to continue throughout the week and into the weekend.
Temperature highs will remain around the low 80s throughout, with nightly lows in the mid 60s, Gilmore said.
Monday's temperatures peaked at 84 with a low of 72. That is around 10 degrees hotter than this month's average temperatures, Gilmore said, and things don't seem to be getting cooler anytime soon.
"Yesterday's high temperature is just one in a string of days," Gilmore said. "Going back to last Tuesday when we started this stretch, it's been a warm start to February. In fact, it's been the warmest start to February on record."
Gilmore said a cooldown doesn't seem to be coming and those high temperatures may sustain into March.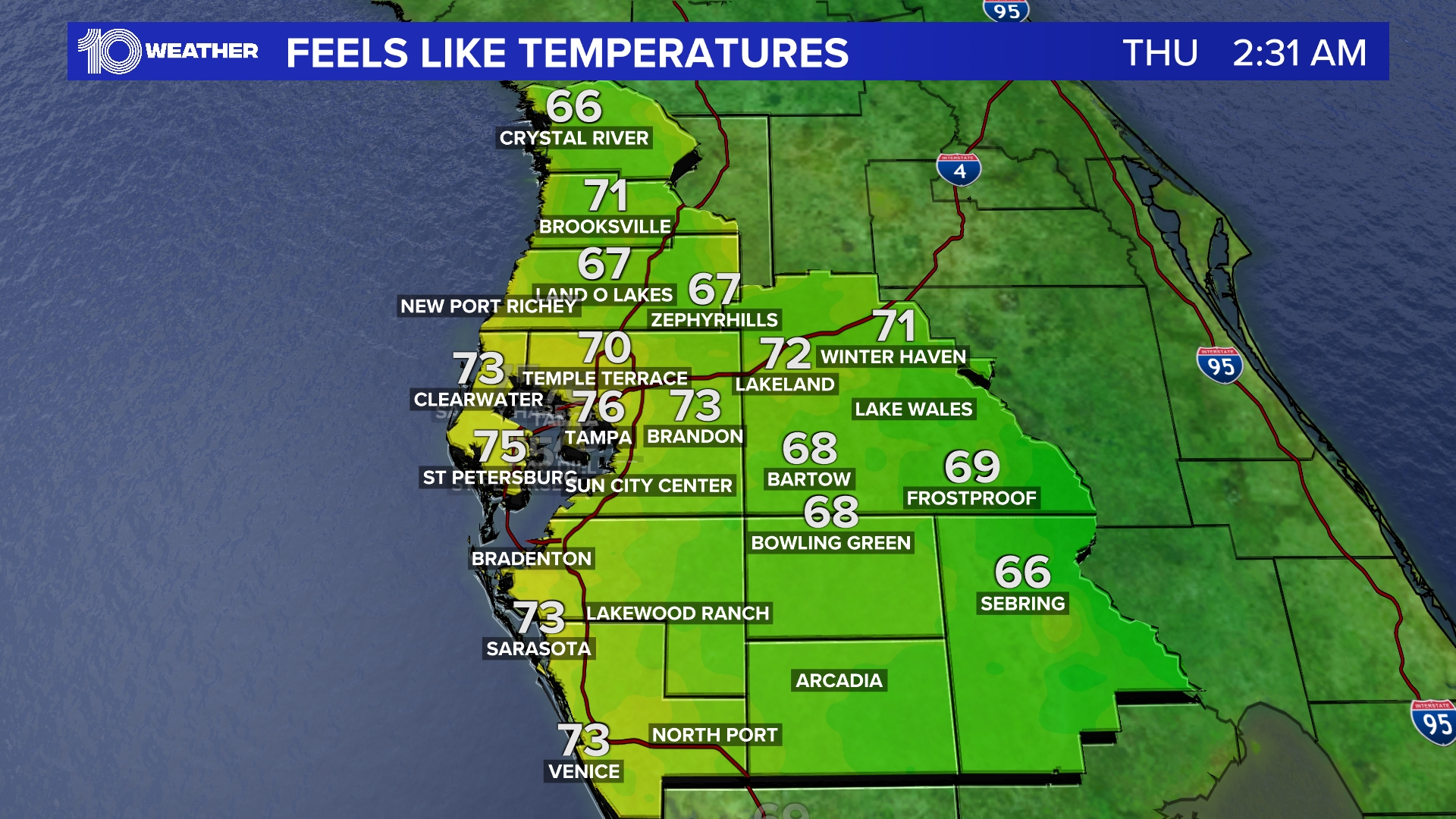 10News WTSP
Heading out for the morning commute, expect to see some low cloud cover. A frontal boundary drifting down central Florida brings little more than sparse cloud cover that could turn into rain. There is a low chance of isolated storms, with rain chances set around 20 percent.
That front will dissipate in Central Florida on Tuesday night and cloud cover will clear by Wednesday.
MORE WEATHER
DOWNLOAD: Get the tbo Weather App and see where storms are headed
LIVE RADAR: Interactive storm track, hourly outlooks, 10-day forecasts and weather alerts
ALERTS: The latest advisories from the National Weather Service